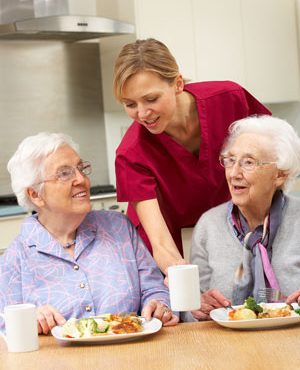 The Hidden Springs Senior Living chefs offer a variety of menu choices for residents and their families. Main entrees and sides plus a variety of soups and salads are so tasty and delicious, just like mom's table. Hidden Springs Senior Living promotes a Farm-to-Table initiative by using seasonal, fresh vegetables and fruits to prepare homemade, made from scratch meals. Additionally, Physician ordered diets are followed and supervised by a Registered Dietician. Hidden Springs Senior Living offers regular, heart healthy, low sodium as well as diabetic diets.
Hidden Springs Senior Living caregivers understand the challenges of residents who can no longer feed themselves. The staff provide cueing and assistance if needed. Hidden Springs Senior Living offers finger foods when a resident loses the ability to dine with utensils. Additionally, residents who experience difficulty with swallowing will have pureed foods that are nutritious and delicious. For those who can no longer eat independently, Hidden Springs Senior Living caregivers provide hand over hand assistance during mealtimes.
During warmer months, residents may dine outside. Holidays, birthdays and anniversaries are shared and celebrated, just like home. With soft music playing and the glow of the fireplace, friends and family are always welcome to join in dining at Hidden Springs Senior Living.