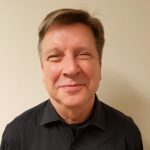 Hi, my name is Jim Favors. I have worked in the foodservice industry for over 35 years. After my discharge from the US Navy I began my career with LSG/Sky Chefs, an airline catering company based in Dallas, Texas. I left LSG/Sky Chefs in 1999 as the Director of Quality Control and went on to work for various Restaurants on the East Coast as well as in California. In 2012 I joined Morrison Senior Living in Holland, Pennsylvania, a retirement community, where I worked as the Dining Service Manager for the IL and Assisted Living departments. I then took a position with Sodexo Senior Care at the Terraces of Los Gatos in Los Gatos, California as the Foodservice Operations Manager for the IL, Assisted Living and Memory Care departments. I moved back to Front Royal over a year ago in order to take care of my mother. Prior to joining HSSL I worked as the Assistant General Manager for Ashby Ponds, a retirement community of 1500 residents operated by Erickson Living in Ashburn, Virginia where I oversaw the Blue-Sky, a 165-seat fine dining restaurant.
I have 2 grandchildren and 2 grown daughters that live in California with their families.
I am extremely pleased to join the Dietary team at Hidden Springs Senior Living and work under the direction of Jeannie Tippet to enhance the culinary experience of our residents.
I can be reached by email at: Jim Favors